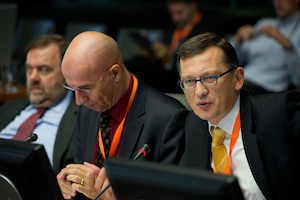 IS-practice is a Belgium-based SME providing consultancy services. We support our clients in innovation management, business development, management of R&D projects in the ICT domain, and in coordination of international consortia composed of partners from multiple European as well as non-European countries.
IS-practice is an initiative of Hugo Kerschot. Hugo's proven track record in both private and public sectors is a valued asset for organisations operating in a multidisciplinary environment of the EU's Information Society.
Our more than 20 years of experience in consultancy, business development and project management combined with an international network of expertise help our clients to develop innovative projects in the areas of Internet of Things, Smart Mobility, Smart Cities, Smart Energy, eGovernment, big data, access control and user identification technologies.
IS-practice has developed an extensive business development, project management, quality control, risk management and software development methodologies. Over the last 10 years, the company has built a pertinent experience in the implementation of pan-European ICT projects (such as bIoTope, ECIM, OpenTransportNet financed under the FP7, CIP and H2020 programmes).
Recently, IS-practice has defined business development strategies for several projects. We are involved in InnoConnect, a technology start-up providing Location Intelligence and big data analysis services, and in OpenTransportMap, a dynamic traffic volumes modelling service.
IS-practice works together with both large consulting organisations such as Capgemini and Deloitte Consulting as well as with smaller, highly specialised companies in the fields of research, technology, and consultancy. The IS-practice network thus covers a large extent of skills as well as a partner collaborations in multiple European countries.
IS-practice is based in Brussels, Belgium. See our office location and contact details.